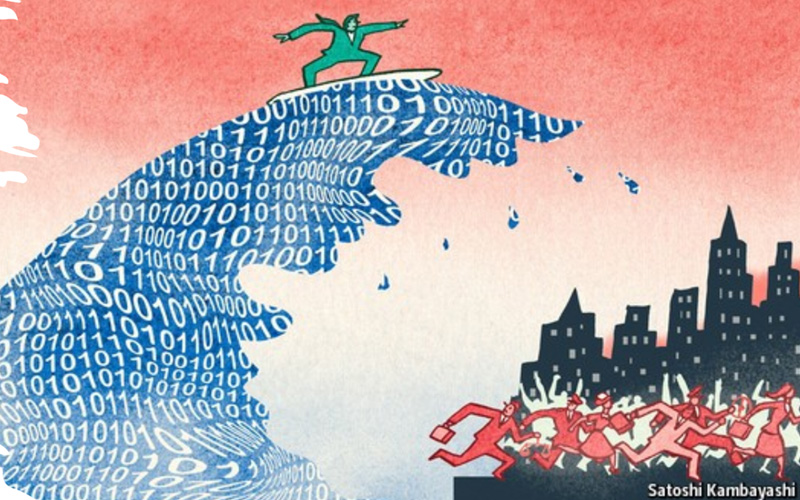 Much has been said and continues to be said about digital transformation, so much so that some specialized consultants promote its adoption as a product or service, and therefore, with a specific scope, deadlines and budget. This is not generalized, but we still see these approaches in professional networks, especially in emails advertising these types of services.
Digital transformation is a "big pill", it is not to be approached as an initiative, it is a serious matter, it is a business matter, which requires a comprehensive strategy, of incremental evolution, of trial and error, which implies work in different fronts.
Transformation processes are not new, they have occurred mainly when technologies have appeared that have changed both point-to-point supply chains and the delivery of value to customers. This is the current case, with the appearance of disruptive technologies that is allowing companies the possibility of reconfiguring the way they deliver their products or services, and even changing their business models. This fact has accelerated the growth of digital economies, where new business models are expanding, with new rules of the game and with much more dynamic rates of change. In these digital economies, "digital traces" are left at every level, practically everything is recorded, generating a series of new possibilities to use data that was not available before.
It is in this sense, given that transformation is a business issue, the first steps must be taken by the leaders of the organization, whatever their category, starting with the identification of "why" it would be necessary to promote the transformation, determine the purpose of evolution. Any transformation involves reviewing how you want to continue doing business, therefore, it will be necessary to: update the value proposition, expand knowledge and identify new customer segments, understand the best ways to interact with them, so that you can grow and retain customers through excellence and memorable experiences. But that does not come "for free", it will be necessary to work to develop new internal capabilities: enhance, streamline and make operations fluid; take advantage of new technologies, exploit the effective use of data at all levels; transform the capacities of people and the organization; also including the enabling of strategic alliances, so that a great leap can be made in the value chain. All the aforementioned will have a direct impact on the cost structure and will even allow modifying the ways of obtaining income.
From a technological point of view, there are several technologies that are driving this new wave of innovation, the following being the most relevant:
Cloud, with its scalability, availability, coverage, speed and security characteristics.
Microservices, Containers
API gateway
AI, Machine Learning
Blockchain
Internet of Everything (Internet of Things, Movile, Social network, etc.)
Among others.
Certainly, it is not about adopting technologies because others are doing it, this must be planned according to the strategy defined by the company. However, it will be very difficult if Cloud services are not adopted to support change, whether public or private, or hybrids.
There are many advantages that Cloud offers, some very specific to each provider, but in general, they allow democratizing the use of practically all the aforementioned technologies, almost immediately, consumable as a service according to the needs, which is expanded or compresses according to demand, with high availability, and with levels of security difficult to achieve for a company or organization. These capabilities allow companies to dedicate their resources to creating and focusing their efforts on generating new capabilities and better responding to changing needs.
Definitely, this will not be enough to bring about a transformation, you must also work on the organization and the capacities of employees at all levels, develop an agile and flexible work culture that is capable of adapting to complex and uncertain scenarios that have accelerated with the Covid-19 pandemic. In this sense, it will be necessary to expand on several of the topics mentioned above.
Luis Mamani, MBA, Systems Engineer, PMP
Senior Consultant | Project, Program and Portfolio Manager | Customer Success